Natural products for your curls
Our mission is to make quality natural cosmetics accessible to all people who wish to make their transition, accept their true nature of hair, whether curly, wavy, curly or frizzy.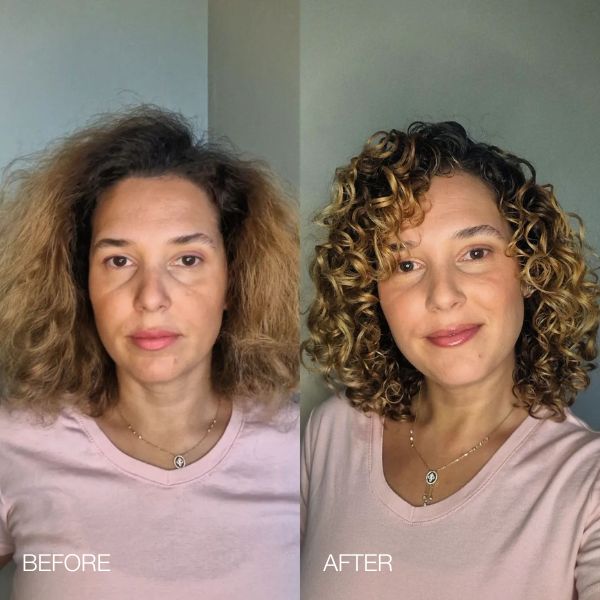 Get the look
The difference in photo between nourished and hydrated hair and neglected hair
I discover
Lamyae

Very natural and organic cosmetic brand, to enhance and hydrate the skin and hair with formulations to suit individual concerns: Glow, Hydrate, Mattify and Balance.
Made with natural ingredients carefully selected to provide a healthy action solution for all types of skin and hair.

Sara R.

Perfect quick delivery in France with clear instructions and checkup.
My hair is better with one application of the routine with the oil and the mask.
The plus is that hair is light even with the after wash products.
Recommanded to a friend!

Niama B.

Clean products, my curl are well defined and my hair is super healthy 👌🏻And the smell of products is jut wonderful 😍 I highly recommend these products.
Natural cosmetics for curly hair - LS Cosmetics
Are you looking for natural cosmetics for curly hair? Look no further, LS Cosmetics is here for you! Our selection of hair products is specially designed for all types of curls. Our popular flaxseed gel and our conditioner leave-in are perfect for defining and nourishing your curls, while our oat milk shampoo natural will help cleanse and strengthen your hair. And with our convenient delivery options, including express delivery with tracking in Europe and worldwide (France, England, Belgium, Spain, United Arab Emirates, Canada, United States...), it never has been so easy to get your hands on our top quality products. But don't take our word for it - many happy customers have been referred to us by friends or family members who have seen the amazing results of our products first hand. So why wait? Try LS Cosmetics now and see the difference for yourself!